Back to top
News and Announcements
March Activity Calendar
Fun and Relaxing Activities for ALL to enjoy.

Parents' Social Night
PORTRAIT OF COLORS $15

Schedule A Tour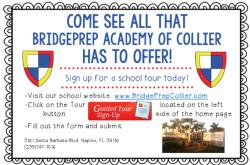 Sign up for a school tour today and see all that BridgePrep Academy of Collier has to offer!
#BridgePrepAcademyofCollier #BPAofCollier #BridgePrepBulldogs

Acceptances Went Out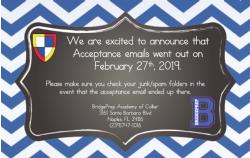 Acceptance emails were sent out on February 27th, 2019.
Please make sure you check your inbox as well as your spam/junk mail folders for the acceptance email.
The email has instructions as to the next steps in the enrollment process.
Welcome to the Bulldog Family!
#BridgePrepAcademyofCollier #BridgePrepBulldogs #BPAofCollier

Swim Central Water Safety Lesson #1
Bulldogs Learn from Day #1- We Never Swim Alone

Boys Volleyball
Volleyball is gaining in popularity because "the relationships you build, how together you are, set volleyball apart from basketball. You come together after every point." ~College Volleyball Player

Just Keep Swimming!
Kinder Water Safety Education Starts Next Week!

Feb. Activities Calendar Wish List
We have some great activities planned for all students, grades K-6 this month. We could use your help to gather items to bring the February Activity Calendar to life. Please consider donating.

Ibiley Uniform Store Today!
Ibiley Uniform Store has arrived on campus. Doors open at 11a and the sale ends at 6p. Please, take advantage of this opportunity to renew your child's uniforms.

February Activity Calendar!
Love & Kindness are our themes this month!